June 18, 2007 on 9:32 pm by Michael Grey | In
Photographs
,
Stories
|
2 Comments
Here's a photo I came across that made me laugh – taken a good few years ago.  On a road trip through Skye and the North we (Bill Livingstone, his wife Lillian, Bruce Gandy and me) drove by Loch Carron.  We had to stop, as you can see the scenery is quite good. 

Here Bill regale's us all with a rollicking practice chanter version of "Loch Carron" that much-loved [but not by me] DC Mather reel.  Yes, here he really is playing that reel.  
Doesn't Bruce look impressed!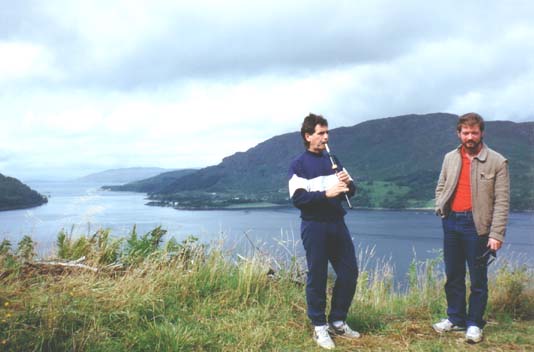 2 Comments
I can't believe you are not a fan of Loch Carron! Shame on you Mike, you are the victim of "bad taste"! What was it Picasso said again? Hehe. Loch Carron was the first reel i ever learned with Lochgelly High, and I still play and enjoy it today more than a decade later. There seems to be controversy over the settings played though, and it seems theres is a definite "Fife" style to playing this tune. The way I was shown the tune possibly wouldnt go down well on the boards for instance.

Comment by Greigc1 — June 19, 2007 #

LC always reminds me of "Duntroon", my first 4-parted reel. Another tune not in my top ten. Both with a sort of relentless "melody". Wow! That's a lot of tachums for LG High – or any band. John Wilson has a setting in his book 2 that is not conventional. He was from Edinburgh. Not Fife, but close! M
Sorry, the comment form is closed at this time.
Dunaber is using WordPress customized and designed by Yoann Le Goff from A Eneb Productions.

Entries and comments feeds. Valid XHTML and CSS.