The Composer's Series Volume 1 (1992)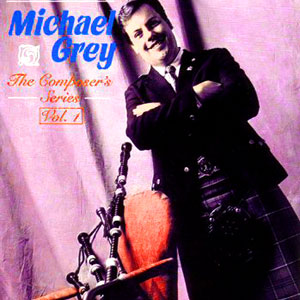 With guest John Walsh accompanying on the 3/4 hornpipe (shuttle pipe) track. This 1992 recording is the first in Lismor Records "Composer's Series".
Tracks
Air & Hornpipe:
The Allangrange Garret, Bruce Gandy's Dusty Chanter.
2/4 Marches:
Mrs Joan Grey, Jamie MacInnes of Cape Breton
Strathspeys with 2/2 & 3/2 Reels:
N.J. Cardenden, MacLeod House, Glenora, Jane Campbell, Fleshmarket Close, Quebec Breakdown, Legal Repercussions.
Retreat March & Jig:
Katie Grey's Welcome from Scotland, Dunrovin Farm.
Air, Hornpipe & Jig:
The Eastern Townships, Wed at Last, The Whitby Runaround.
Strathspey & Reels:
The Old Schoolhouse, Glenclune, John MacLean, A.W. Berthoff's Reel.
2/4 Marches:
Pipe Major William Livingstone, George A. Walker.
Hornpipes:
Gordon MacRae's Favourite, William Grey, John Walsh's Walk.
Marches in Comound Time:
Iain Symington, Blustering Home.
Jigs:
Tom Anderson, Andrew Bonar, The Crooks of the Kingdom, Cross Border Sidestep.
Air & 3/2 Hornpipes:
Andrew Campbell's Lullaby, Finbarr Saunders, Rod MacNeil's Waltz, Rosemary MacNeil of Barra Glen, Mrs Larter of Halifax.
Dunaber is using WordPress customized and designed by Yoann Le Goff from A Eneb Productions.

Entries and comments feeds. Valid XHTML and CSS.