Shambolica! (2002)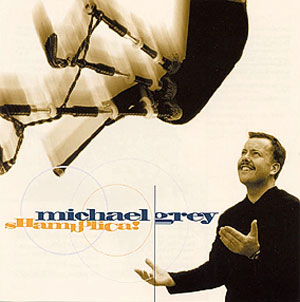 Deftly described by MusicScotland: "Canadian Michael Grey, a top-class piper and tunesmith, gives free rein to his creative contemporary side on this techno-tartan traditional album. His pipes combine extraordinarily with drum programming, electronic vocal samples, guitars, bass and djembe, as well as fiddle and bodhran.
Traditional tunes and new tunes in the older modes, all fall under the hypnotic spell of the repeat-beat semi-psychedelic pipering. With some Gaelic singing in a Moebian mode, and a piece from Burns that would have the bard up and strutting his stuff in great Wolfstone style!"
Review
Shambolica! has seen wide radio play including CBC, American NPR, the BBC – and elsewhere. In the UK the CD saw it's UK radio premiere January 2002 on BBC Scotland's popular Pipeline program.
"… a major artistic achievement."
Iain Macdonald, Piper & Drummer Magazine (Click Here for full review)
"A great melting pot of ideas and instrumental textures"
Iain MacInnes, BBC Radio Scotland
"The arrangements are the most innovative and complex since Billy Jackson's "The Wellpark Suite" was released in 1985″
Rob Menzies, Penguin Eggs Magazine
"A collection of gems from an exiled [Canadian] Scot who can play a mean tune."
The Living Tradition Magazine
"A creative multi-genre fusion project…fun…lush."
Dirty Linen magazine
"Amazing."
Sing Out magazine
"[He has] successfully brought together such diverse idioms as Cowboy, Jazz, New Age, not to mention solid MOR, and even House. A great CD for the car or the home, but I'll not be lending mine."
Deborah Rosen – Whole Note magazine
Michael Grey's new recording is well worth the two years it took to complete the project. The 11 track CD shows incredible variety, ranging from classical, to jazz, to industrial styles. Well know Canadian artist Jane Siberry teams with Grey on a stirring rendition of "The Nut Brown Maiden". Shambolica! is a recording that holds the potential of being a breakthrough for piping, by making the music tastefully appealing to a far wider variety of new listeners.
www.pipeanddrummer.com
"World Music with a neat Celtic twist – a wonderful mix and one of my favorite CDs of the year"
John O'Malley, Northern Voice
Tracks
Sergeant Malkie Bow's Consternation
Between Hope and Union
My Heart's in the Highlands (featuring David Martin)
Nut Brown Maiden (featuring Jane Siberry)
The Banker, Bird and Schoolmaster
My Kindly Lass (featuring Glenna Mackay-Johnstone)
Tam o'Shanter Suite
Maple Leaf Lounge
Shambolica!
Annabel
Argyle Street Taxi
Dunaber is using WordPress customized and designed by Yoann Le Goff from A Eneb Productions.

Entries and comments feeds. Valid XHTML and CSS.