Live at the el Mocambo: Raw and off the Floor (2010)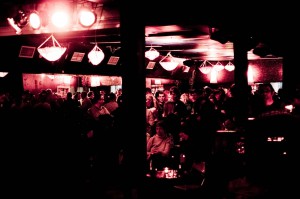 On May 15, 2010, the Toronto Police Pipe Band took the main stage at Toronto's storied el Mocambo Club for an unforgettable night of music. The band has been beating the edges of pipe band music tradition for over two years and, in doing so, helping to get people to think about music in a different way while helping the pipe band world, especially, burn up Internet bandwidth.
The show this night includes all their much-loved (and much not-so-much loved) selections of competition music in addition to an almost full hour of brand new concert selections.
Download now from iTunes
The recording includes lead drummer, Doug Stronach's corps at their entertaining best and solos from Pipe Major Ian K MacDonald and Pipe Sergeant Michael Grey. One of the evening's highlights, captured here raw and off the floor is Breton piper Christian Mehat's original and compelling composition, Concerto Ascenseur (Elevator Concerto) " adapted this night sans bombards. The crowd loved it and you will, too!
Andrew Berthoff, pipesdrums.com editor, reported in his review, "I can't remember attending a pipe band concert at a venue that accommodated the sound so well. It may have been the first time in concerts I've heard or played in in which the snares didn't overshadow the pipes, where the balance the ensemble was so good. The el-Mo clearly is made for loud music; it was like listening to a pipe band in a recording studio."
You'll find the sound captured on Saturday, May 15, 2010, superb: pipe chanters, drones, mid-section and snares all in remarkable balance and in unanimous good tune. But make no mistake, the Toronto Police Pipe Band's Live at the el Mocambo is a long way from a studio recording. It's live in a big way with audience and band in equally good spirits. Keen listeners will even pick up some especially exuberant rasta beats from the reggae band playing one floor below. It's all good fun. There's a chance that might've been an even better title for this, the Toronto Police Pipe Band's latest project.
Tracks
1 Breton March & Gavotte 2:04
2 Tribute to John MacLellan, DCM, Dunoon 3:59
3 Idiomatica 8:15
4 An Adaptation of Alex Duthart's Salute to Max Rayne 3:36
5 Solo Piping: Michael Grey 3:47
6 Strathspeys & Reels 3:29
7 Air & Concerto Ascenseur 3:25
8 Variations on a Theme of Good Intentions 7:17
9 Air & Jigs 5:45
10 Pibroch 8:39
11 Solo Piping: Ian K MacDonald 7:02
12 Hornpipes 3:25
13 Gallus No. 3 7:10
Bonus
Hornpipes: The Growl and Yellowknife Thea
Audio clip: Adobe Flash Player (version 9 or above) is required to play this audio clip. Download the latest version here. You also need to have JavaScript enabled in your browser.
Dunaber is using WordPress customized and designed by Yoann Le Goff from A Eneb Productions.

Entries and comments feeds. Valid XHTML and CSS.