Cuts From Traditional Cloth (1997)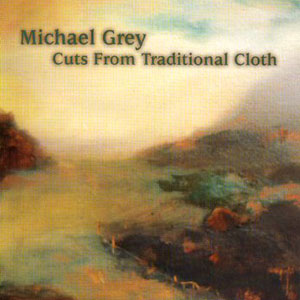 Highland Bagpipe & Shuttle pipes by Michael Grey.
With:
Oliver Schroer (Fiddle)
Peter Andre (Bones & Button Key Accordian)
Patrick O'Gorman (Eb Flute)
John Walsh (Bodhran)
Glenna Mackay-Johnstone, Ryan MacDonald, Shannon MacDonald & Isabel MacDonald (Vocals)
What they say about "Cuts From Traditional Cloth"!
…. this is no ordinary piping album…is an elegantly crafted work displaying the finest
attributes of pipe music in all its glory.
John O'Regan – Rock'n'Reel Magazine, UK
This is a superbly put together album. Technical excellence
is the first phrase that springs to mind…To many this may
appear to be a folk album rather than a piping one, but
isn't that what piping is, folk music.
Donald McBride – The Piper Press, Glasgow
I have to admit that I am not the greatest fan of the
Scottish pipes, (maybe because I'm Irish?). But this album
really stands out as a classic. Michael
Grey….has certainly changed my opinion of the
pipes and I will take more interest in pipe music in the
future.
Mike Ganley – The Crooked Road Program – Easy-FM Ireland – July 1997
This is an ambitious exploration of 'traditional' pipe music
with some bright twists. Too many recordings feature the
musician more prominently than the music, but this one is an
exception. The eleven tracks present a broad mix of
'traditional' tunes, with a sampling of Michael Grey's
compositions. For the most part, each track has something
unique and often exciting to offer.
Hal Senyk – Piper & Drummer – July 1997
This is a quality traditional Scottish album…. has a
strong devolutionary and romantic feel.
Chris Mills – Shire Folk Magazine- No.61.
It is a great honour and privilege to be asked to revue an
album by one of piping's great talents…..This is a
refreshing album, integrating the highland bagpipe with the
fiddle, accordion, flute and bodhran, and is really for
anyone wishing to expand his or her horizons beyond the
ordinary occurrences of everyday playing and entertainment.
Geoff Irvine – The Piping World. Edinburgh, Aug.97
Dunaber is using WordPress customized and designed by Yoann Le Goff from A Eneb Productions.

Entries and comments feeds. Valid XHTML and CSS.