An Evening of Champions (1991)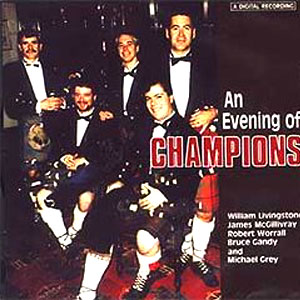 This 1991 recording captures some of Canada's finest pipers in recital at the renowned Officers' Mess in the James Street Armoury in Hamilton, Ontario. It features 72 minutes of live piping by Jim McGillivray, Bill Livingstone, Bruce Gandy, Michael Grey and Bob Worrall – all North American champions – and a wonderful mix of piping styles, traditional tunes and new compositions. The packed recital was emceed by another Ontario piping stalwart, Ed Neigh.
Tracks
Michael Grey

Auchnaluin / David H B Anderson / Swallow-tailed Coat / Before Kirkmichael Games

Michael Grey

Ina MacKenzie / Jane Cambell / Robert Campbell / Paul K's Strathspey / A W Berthoff's Reel

Michael Grey

Fairies' Hornpipe / Price of a Pig / Mallaig Ferry / Am Breamatain Tobhain Dubh / Eileen MacDonald

James McGillivray

Duncan McGillivray, Chief Steward / Ellenorr / P/M Sam Scott

James McGillivray

Nameless (Hiharin Dro O Dro)

Robert Worrall

Bruce Gandy's Farewell To The Iron Horse Haligan Street

Robert Worrall

A Song For David / Nancy Taylor / Bellahouston Park / Hammer On The Anvil / St ninian's Parish Centre Ceilidh

Robert Worrall

Antigonish Highland Society / Cabar Feidh/Bessie Mcintyre

William Livingstone

Lillian Livingstone / Crossing the Minch

William Livingstone

A Flame Of Wrath For Squinting Patrick

Bruce Gandy

Lampson Street March / Wellington Police Pipers In Australia / Mrs Sharon Duthart / Caroline's Jig / Long Distance Mom

Bruce Gandy

Michael Grey's March Through New Zealand, Winnie Roberts / John Roy Stewart / Cockerel in the Creel / John Morrison of Assynt House

Bruce Gandy

Waiting For Alexander / Thornbury Cottage/ P/M Sandy Gordon / Skye Dance / Three Harris Dance Reels / Sandy McIntyre
Dunaber is using WordPress customized and designed by Yoann Le Goff from A Eneb Productions.

Entries and comments feeds. Valid XHTML and CSS.