"More Music for Everyone" – Book 7 (2018)
With over twenty traditional music-loving contributors there's no doubt that this collection of music is the most diverse Michael Grey has yet to publish. Every flavour and texture of pipe music heard today is given a little space.
The tunes in the full colour book span the core repertoire of the Great Highland Bagpipe (and maybe a little beyond).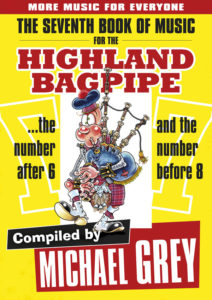 The huge cross-section of big-talent contributors include: Bernard Bouhadana, Ryan Canning, Duncan Chisholm, Bruce Gandy, Scott Garden, Ann Gray, Nick Hudson, John Lee, Bill Livingstone, Allan MacDonald, Dr Angus MacDonald, Iain MacDonald, Angus MacKenzie, Angus MacPhail, Donald Ewen MacPherson, Iain MacPherson, Sean McKeown, Duncan Nicholson, Dougie Pincock, Neil Smith, Terry Tully, Craig Turnbull and Bob Worrall.
Simon Thorp, artist and co-founder of Viz magazine provides the cover illustration with one of his great creations, Finbarr Saunders ["and his double entendres"]. Grey was inspired years ago to name a tune after the cartoon master interpreter of the double meaning; the tune is featured in this collection along with its namesake, a bespoke piping Finbarr Saunders. In Finbarr we see the lighter side of the world (and who couldn't use a little more of that?).
The book launches Wednesday, August 15 – 1430 h – at the National Piping Centre's auditorium as part of the 2018 PipingLive! Festival in Glasgow – with live performances by many of the talented contributors!
The book will be available from all the usual places or ORDER HERE.
CONTENTS
Hornpipes
Finbarr Saunders
93rd Highlanders Farewell to Edinburgh (The)
Back in Ireland
Barry Ewen
Jarrod and the Parrot
John & Connie's 40th
Pipe Major Duncan Nicholson
Seumas J Lawson Hornpipe
Trinity Beach
Two Lisas (The)
Jigs
A Long Way from Elegance
Conrad's Hat
Davey's Wee OJ
David Glen's Jig
Dunrovin Farm
Feet Washing (The)
Head Street Curtain Rustler (The)
Jim Bruce's Rake
John White of Shotts
One Day in January
Ronald MacKenzie of Milton and Mabou
Ten Years on Tuesday
Whitby Runaround (The)
Would the Minister not Dance
Marches
5 Ardveenish
Alex Mac Millan
Ann an Larach nan Gaisgeach (In the Footsteps of Heroes)
Breuberg Castle
Dervaig Rescue (The)
Donald McKillop's Farewell to the Strathclyde Police
Fonzie MacDonald's Welcome to the Real World
Free
Hug Oreann O Ro
Inspector Clueless of Gayfield
John Slavin of Saltcoats
Kenny MacLennan of Callanish, MBE
La Marche du Appalachia
Major Douglas Henderson's Farewell
Marie Kiely
Master Mariner Kenneth MacLeod's 2/4
Memories of Wendy Murphy
One Medley March (The)
Pipe Major Alastair Lee
Pipe Major Angus MacDonald, DMZ
Pipe Major Ian K MacDonald
Seonachan MacLeod of Skye
Staff Sergeant Scott Balinson's Farewell to the Hamilton Police
Strathspeys
Canal Basin (The)
Domhnall Phadruig Nicholson
Locheil's Away to France
MacDonalds of France (The)
Palindrome
Patty Koblyk of Dundas
Yester House
Reels
A churn an gobhar as a'chreig
B' fhearr mar a' bha mi 'n uiridh
Farley Bridge (The)
Father Michael MacDonald's Silver Jubiliee
Donald Tripp, Polymath
Hen-wife's Daughter (The)
Locheil's Away to France
Oran Na Fiaclan
Patty Koblyk of Dundas
Ridhle mo nighean donn (The Brown-haired Maid)
Dance
45 Quid and He'd Kill Anything
Parmer's
Gaelic Song
Fraoch A Rònaidh
Schottische
George Bennett's Nostie Bridge Powerhouse
Suite
Tartan Tide
Air
Taryn Annabelle Lee
Waltz
WW1
Piobaireachd
A Salute to Pipe Major Reay Mackay
Dunaber is using WordPress customized and designed by Yoann Le Goff from A Eneb Productions.

Entries and comments feeds. Valid XHTML and CSS.