"Music for Everyone" – Book 5 (2006)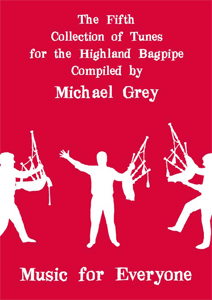 Michael Grey's Brand New 5th Book
10 years since his last book, Michael Grey has produced his long-awaited fifth book of music, "Music for Everyone".
This jam-packed, almost double-sized 68 page extravaganza has almost 80 tunes covering outstanding music for pipers of all experience levels. This glossy production features photographs from the collections of both Michael and his many contributors, including Gavin Stoddart, his father, George, Allan MacDonald, Bruce Gandy, Donald McBride, Sean Somers, Rob Menzies, John-Angus Smith and more.
Pipers also find in "Music for Everyone" a few well known Grey compositions, like "Coppermill" (with four parts), "Fleshmarket Close", "Beverley's Wedding", "The Tam O'Shanter Suite" and "The Eastern Townships" – complete with harmonies. A serious must for all pipers."
"Within both of these idioms, I believe he has created some masterpieces, and these are in evidence within this book." ~ Pipe Major Richard Parkes, Review, www.pipesdrums.com
Available now from your local retailer.
Free samples in the goodies
Dunaber is using WordPress customized and designed by Yoann Le Goff from A Eneb Productions.

Entries and comments feeds. Valid XHTML and CSS.