February 14, 2020 on 8:37 am by Michael Grey | In
From Piping Today Mag
|
Comments Off

on An old postcard and a wee January ephemerid
Beyond nostalgia, I imagine one reason for the popularity of old posters, crate labels, postcards, (and, yes) magazines is due to the ease in which these items can be shipped. Online sites everywhere are bursting with stock for sale; from old newspapers to matchbook covers to everything in between. You may know these things are known as ephemera to those most interested namely, collectors. And this stuff is collected. Ephemera. While it's a Greek word meaning "lasting only one day" it has the ring of the name of old Uist aunties: Hughina, Fenella – and Ephemera. I imagine Auntie E, yet, with yellow nicotine fingers and purse full of linty mints – and absolutely no time for collecting old bits of paper.

Still, in collecting old bits of paper a person can experience a unique, first-hand look at a reflection of the past. Rather than own an impersonal mass-produced curio, I think there is real interest in owning a remnant from another time and place: a piece of ephemera. Even the most modest example like, say, an old postcard, can extend considerable insight. The best piece, it seems to me, documents overlooked details of a time, a place – and a life.
Consider this postcard pictured on the left. It landed in my hands courtesy of GS McLennan's grandson, Hamish McLennan. As you can see, it's postmarked, Fort George, 11 August 1924. The sender was GS McLennan's brother, 23 year-old Donald Ross MacLennan, the recipient: his sister-in-law, Nona, and, it can be assumed, GS, too.
For those not up on cursive writing it reads: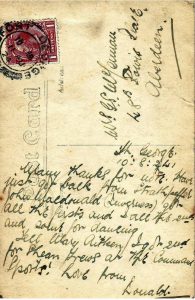 Ft. George 10:8:24
Many thanks for note. Have just got back from Strathpeffer. John MacDonald (Inverness) got all the firsts and I all the 2nds and same for dancing.
Tell Mary Aitken I got 2nd for Shean Trews at the Command Sports!
Love from Donald.
Today we'd text a message like this, or, for the really self-assured, post the news on social media. In the 1920s a card like this was as close as it came to speedy communication. Forget the telephone: in Britain of the early 1920s there were only 15 phones for every 1000 people. The post was it.
Read the rest of the story here.
No Comments yet
Sorry, the comment form is closed at this time.
Dunaber is using WordPress customized and designed by Yoann Le Goff from A Eneb Productions.

Entries and comments feeds. Valid XHTML and CSS.