August 9, 2019 on 11:36 am by Michael Grey | In
From Piping Today Mag
,
Stories
|
Comments Off

on To Summon a Dancing Skeleton
I've always liked history. The study of things connected with the past, especially when people are in the mix is a pause-worthy pursuit. In history we're presented a never-ending book and with every moment that passes a new piece is added to the story. Everyone makes their own stories; some big and some small. Because the stories help us understand the context of lives lived, most are interesting – to one degree or another.
With so many stories unfolding, we know history doesn't happen in a straight line. History comes to be by a crazy and complex meshwork of countless interconnected occurrences and perspectives. And these: all happening at once – everywhere. We learn from it – and we repeat it.

A branch of history I find especially interesting is genealogy. It seems to me that to know of the people who came before you, where they lived, if not how they lived, helps in the understanding of, well, who you are.
Genealogy is detective work; a little art, and with advances in DNA technology, a lot of science. In tapping into the online resources you all know about, I've come to find that my people – like yours, I'd guess – stand as a pretty fair slice of life that is humanity. Fisherman, farmers, paupers, poets, adulterers and larcenists. "Oh, dooo tell," I sense you thinking. Well, first, steady on. I think now of the old English proverb: "He who has no fools, knaves or beggars in his family was begot by a flash of lightning." We all have drama in the closet – if not the front room.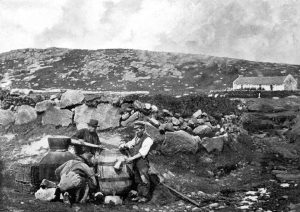 When I began the search of my history, I didn't have a clear idea of I what I would find. I had a sense of the times and backgrounds from where I believed my family sprang. I didn't expect royalty or riches. And, what I found of that was thin on the ground. Debra Chatfield, the co-founder of a large UK family history site, said that according to one of their surveys, "black sheep came out number one, way ahead of royalty or aristocracy", when it comes to what people hoped to find in their research. She added: "People have a romantic notion of vagabonds, especially in the Victorian period."
So, to that: open the gate and cue the black sheep – and the availability of 19th century Irish court records. Meet my great-great-grandfather, Joseph Gray (1832-1891), he a farmer in Baltrasna, Oldcastle, County Meath, Ireland. Note the spelling of Grey. Willie S comes to mind and his famous line from his Romeo and Juliet: "What's in a name? That which we call a rose / By any other name would smell as sweet."
And so Gray it is.
To my man Joseph. He didn't live a long life but the one he did managed to yield a marriage and six children. That, and no fewer than nine court appearances within a span of 20 years.
Read the rest of the story here.
No Comments yet
Sorry, the comment form is closed at this time.
Dunaber is using WordPress customized and designed by Yoann Le Goff from A Eneb Productions.

Entries and comments feeds. Valid XHTML and CSS.