May 7, 2019 on 10:47 am by Michael Grey | In
From Piping Today Mag
,
Solo Piping
,
Stories
|
Comments Off

on Reservoirs for the heart
It was a bleak, frosty, light-starved January day in Edinburgh about twenty years ago that it found me. The kind of day where the only cure for quaffing a little too long – and often – from things in Glasgow connected to things Celtic called for a long walk in cold. Oddly, it's that special kind of lugubrious, frigid grey that is the Old Town in winter, that can be the most curative.

And so I walked. From Waverley station to the occasionally punishing uphill steps of Fleshmarket Close, to Cockburn Street and finally "The Royal Mile" – High Street. It seems to me that today Edinburgh's tourist areas are never really quiet, even at times when the days are shortest. It hasn't always been this way. On this January afternoon streets were muted. Locals, students and a hungover piper aside, the place, then, was slim-pickings for the determined piping busker offering his tunes near the gobby Heart of Midlothian.
To the distant – and untuned – soundtrack of a gracenote-free rendition of Skye Boat Song – I was drawn, pulled as if otherworldly, to a city centre antiques shop. The place, with name carefully etched on the storefront, had been around a reliably long time. The faded gold leaf letters on the window gave away as much.
A push of the door and a corresponding ring of the horse bells that hung from the handle marked my entrance to the small shop – that, and a blast of humid, faux-tropical air. As if in an attempt to create his own private city centre Caribbean retreat, the elderly shopkeeper had heaters blazing to the max.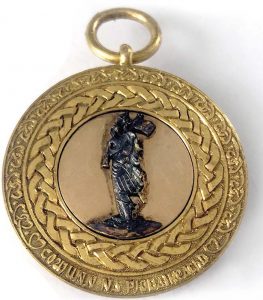 This place was no Jamaica. Jammed to the beams with shimmering silver and gold plates, brooches and every shape of Scots Victoriana ever conceived, the shop had a smell just like the basement of the home of my first teacher, Aberdonian, George Walker. The basement of George's suburban Toronto home was the place where he would teach. Come to think of it, basements – rare to homes in Europe (and dare I say, Scotland, too) – are the go-to spot for piping activity in Canadian homes, at least the ones where pipers live. The aroma was a quirky mix, heavy with notes of cowhide, mustiness and Airtight bag seasoning. Though the smell of it suggested otherwise, this Edinburgh shop wasn't a piping place. And I loved it. Bread baking and George Walker's basement: fantastically evocative scents – two of my most liked.
And yet, for this moment in time, this High Street antiques hot house was a piping place. On this day, under the scratched glass of the old display case were glowing pieces of treasure: shimmering gold and silver. Medals. Piping medals. Holy Hannah! "What's this, good sir?" (I didn't really put on a BBC4 voice). I do recall my surprise, though. when I found he did hear my question through the impressive tufts of hair sprouting from his ears. Hirsute lugs seem unnervingly common to shopkeepers of the antiques kind.
"Yes, we just got this lot in last week," he said. The medals were of a very high quality, a kind not often seen today where disposable plastic or chrome trophies often rule the waves of prize-giving at piping events. Cast-molded images, the names of well-kent places and downright fine artwork was everywhere. There had to be over two dozen medals on display: Strathpeffer, Atholl and Breadalbane Gathering, Inverness – the north and west of Scotland was well represented – and all were sterling silver or assayed gold.
Read the rest of the story here
No Comments yet
Sorry, the comment form is closed at this time.
Dunaber is using WordPress customized and designed by Yoann Le Goff from A Eneb Productions.

Entries and comments feeds. Valid XHTML and CSS.