April 3, 2017 on 7:48 am by Michael Grey | In
From Piping Today Mag
,
Stories
|
Comments Off

on Damn you short attention spans
"It was the moon on nights like this, it was nights like this, it was the wind as it pawed at you or cried as it approached, the sound of the river, the clotted stars against the dark sky, the way a horse will snort at the sight of you, the way pine needles seemed to rust as they died. It was too much to be named. It was all that could not be taken away until it was taken away at last. It was given before you knew what to make of it and taken before you'd had a chance to understand its extent and beauty."
These words by writer André Alexis come from a short story of his – "On Such a Night" – published last week in Canada's Globe & Mail. These beautiful words especially resonate; they passed through my screen only a couple of days after the passing of my old friend and mentor, Reay Mackay. The last line, in particular, stays with me and has caused me to reflect. Unless you're a Buddhist monk or of that rare ilk – of the deeply thoughtful and self-aware – the norm, surely, is for us to not savour and appreciate the present.

Damn you short attention spans, petty distractions and worries of the future. Mark Twain comes to mind: "I have known a great many troubles, but most of them never happened". It's the here and now we so often let pass like something without value or of little consequence – or ordinary. Ordinary suggests humdrum and that without distinction. Where's the joy in that? When we reflect on ordinary we can find it is not always as it first seems.
I say we but mean me. I don't want to make any assumptions about your own perspective and way of being, so my apologies now for presuming to use the plural personal pronoun.
When Reay died I found myself going through old photos. Old-school photos, the kind printed on paper, the kind you can hold without phone in hand and those most often pressed in pages held together by binding. Can you still buy photo albums? I know I have a good few and among them all are scant images of Reay – and me and Reay. I was surprised and then started flipping through the album's pages looking for pics of teachers and other heroes of my past and present. There is no shortage of homogenous party scenes and failed attempts at replicating scenic photographic greats like an Ansel Adams (with my point-and-click camera). My cello-paged albums hold very few of time spent with John Wilson, George Walker, John MacLellan, John Walsh or even, Bill Livingstone – a person I see and talk to a lot to this day. And certainly not many of Reay.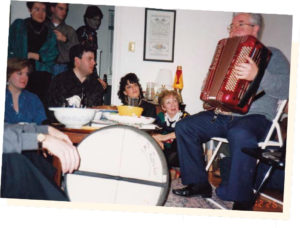 I reflect on what this might mean, to have photos (together forming a very personal book of record, really) that suggests value is placed on a boozy party selfie over, say, documenting time spent in an important way – time spent with a teacher, or other personally impactful people.
Read the rest of the story here.
No Comments yet
Sorry, the comment form is closed at this time.
Dunaber is using WordPress customized and designed by Yoann Le Goff from A Eneb Productions.

Entries and comments feeds. Valid XHTML and CSS.