February 24, 2016 on 5:03 pm by Michael Grey | In
From Piping Today Mag
,
Pipe Bands
,
Tips
|
Comments Off

on Piping Today: A magical winter week in Glasgow
I once read something somewhere about the spiritual power of making music in a group. The words I recall spoke to group music creation in a sacred sort of way. Making music with others joined energy and life forces and, well, made magic. Magic a word used here, I think, to describe the indescribable. And the indescribable, to me, usually stands as the best and worst things in life and, from time immemorial, inspirational fodder for the poet. Anyway, these hazy recollections stayed with me and it was only in the last week of January did they again burble up.

The LiveinIreland87 tribute project — that which you'll know I was very involved in and that which you are probably getting pretty tired of hearing about — turned out to be a veritable living lab, one that explored in blazing Technicolor the serious magic connected with making music in a group; in this case, of course, a group of pipers and drummers.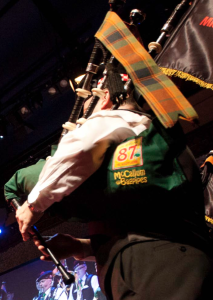 First, it's worth saying that shared energy is a natural outcome of group music-making — no matter the group, no matter the level of musical proficiency. We make this energy any time we gather for a band practice or even play along with our teacher or another piper on the practice chanter. There's a connectedness and usually a level of concentration that sees shared music-making shield thoughts of the outside world, and if the stars align, makes us feel really good.
Read the full Piping Today page here
No Comments yet
Sorry, the comment form is closed at this time.
Dunaber is using WordPress customized and designed by Yoann Le Goff from A Eneb Productions.

Entries and comments feeds. Valid XHTML and CSS.