October 17, 2015 on 8:09 am by Michael Grey | In
From Piping Today Mag
|
Comments Off

on The Struggle for Originality
YONGE Street is one of the City of Toronto's most important thoroughfares. It dissects the whole of the metropolitan area along north-south lines. From Lake Ontario north over 50 kilometers, Yonge covers a lot of diverse, sometimes gritty ground and on its path walk a lot of diverse people: the rich, the poor, the fat, the thin, the fit and the down-and-out. The part of the street I was wandering through was near glamourous Yorkville and the University of Toronto, so an eclectic mix of people, including lots of women in designer duds, some even holding wee dogs like in the movies, and students heaving massive knapsacks and at least one clever piper – that's me (I try never to assume).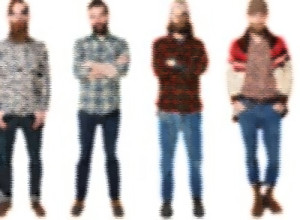 And it was while walking the thought came to me: the sparkling realisation that hipsters are not – not hip. The "hipster" is a person who generally views their way as a subculture of intelligent, independent thinking – and this includes the clothes worn, the look. The air of the vintage and thrift store are markers of the hipster style. And so, I don't know if there was a "hipster" convention nearby or if a busload of threadbare lumberjacks was sprung from the camp for a shopping excursion to the likes of Dolce & Gabbana and Brooks Brothers. But the place was heaving with people that looked like they were from the same tribe – if not the same mother.
On this day it was the "lumbersexual" hipster subset that seemingly swarmed the place: first, all male, in plaid shirt and jeans, at least one piercing on the face or ears, a carefully coiffed wave of hair with closely shorn sides and big beard. I don't think you can be part of this club without the beard. Anyway, it was this "look" that made me think about the futility of their individual attempts at portraying independence or anything close to originality. On this day, a guy walking by in a three-piece suit would've radiated more subversion – or, at the very least, independent thinking.
Click here for the full magazine article.
No Comments yet
Sorry, the comment form is closed at this time.
Dunaber is using WordPress customized and designed by Yoann Le Goff from A Eneb Productions.

Entries and comments feeds. Valid XHTML and CSS.