February 16, 2015 on 8:20 pm by Michael Grey | In
News
,
Photographs
,
Stories
|
Comments Off

on "Mike Grey, the doctor will see you now"
I've had the same family doctor for as long as I can remember. I don't see him enough, which, in a way, I guess, is a good thing. But, up until fairly recently, when I did land in his waiting room, I'd almost always cause him – or his receptionist – consternation, if not a laugh.

My GP has a large practice, his always-jammed waiting room is a testament to that, so it stands to reason, I guess, that he'd have lots of patients from the same extended family, living on the same street, having the same birthday and, maybe, a few with the same name. Dr F. for a very long while had two Michael Greys signed up to his practice. Imagine that. With names even spelled the same coloury way.
The other Michael Grey – a person I never met – was about 40 years older than me (sadly, I use past tense). So when my patient file was pulled in advance of an appointment, I'd get a weird look from the receptionist-assistant, as in, "Wow! You're looking not so bad for 80!", or, in the case of the doc, he'd just laugh.
A number of years ago my Mum found herself involved in a local memoir group. A program introduced by her local library and one where seniors were brought together to share their stories with a view to record lives well lived. Through this group she met one Rae Grey. Again, with the small world, this woman's given name happened to be the maiden name of my Dad's grandmother – though his granny spelled her name, Rea. I can feel the too-much-info factor slipping in here so … to cut to the chase.
Rae's husband was Michael Grey, or "Mike", as he was seemingly mostly known. Mike and Rae lived and raised their family a kilometer or two from where I was brought up. And here's the rest of the story: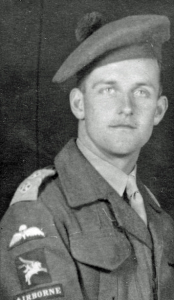 My Mum became friends with Rae and through this friendship Mike's wartime actions – dare I say, his heroism – came to be known. Mike was a signals officer during WWII in the 5th (Scottish) Parachute Battalion. In fact, he was to find himself made company commander after having more than a few unimaginable adventures including 33 parachute jumps and a case of hepatitis (note among those who nursed him back to health was Prince Phillip's mother, Princess Alice). Referring to a time in 1944 he said:
"They [5th Battalion, the Parachute Regiment] were sent to Salonika before coming back to Athens, where the street fighting was the worst and I was on top of the Acropolis with a great field of fire when I was hit with a piece of stone from a bullet. Another wounded telegram home."

Mike Grey was something else. And to be fair, the same goes for his redoubtable wife, Rae Grey: great background here.
On Mike's passing, and knowing my Mum, and, so, a little of me – the piper guy – Rae Grey handed along a couple of Mike's fine possessions to my Mum – to pass, in turn to me. In my hands now are two vinyl records: "British Tournament and Tattoo (London Records, 1967) and "John Burgess: King of the Bagpipers" (Topic Records, 1969). Along with these gems are two letters, one on the letterhead of the Army School of Piping, Edinburgh Castle, the other, on the personal letterhead of the famous British actor, David Niven – it must be said here, the doppelganger of the late Pipe Major John M MacKenzie, of the Queen Victoria School, Dunblane (he a huge force in making the Glenuig MacDonald brothers pipers).
In 1972 David Niven published the first of his memoirs, "The Moon's a Balloon". In the book he referenced his impressive military life and a little of his Scottish Officer Mess Dinner experiences – including the playing of the pibroch "The Desperate Battle (of the Birds)":
"Finally, after the pipe major had played his solo pibroch, the haunting lovely, "Desperate Battle of the Birds", the Colonel tottered from the room, followed by the survivors who then indulged in a monstrous barging march, punctuated by wild cries, which passed for Highland reels."
On Mike's behalf, Rae wrote a note to David Niven, looking for some guidance on where to track down a recording of one of ceol mor's most evocative tunes. The gallant David Niven responded forthwith and suggested Edinburgh Castle had the answer. His letter is here: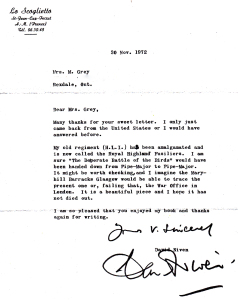 Mike was keen, it seems, to source a recording of this pibroch, a regimental favourite, and so wrote a letter to the Army School at Edinburgh Castle. It was David Aitken who replied on behalf of Captain John A MacLellan, then head of the school. Aitken's letter is here: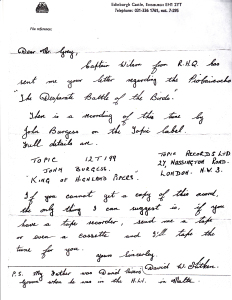 Aitken recommended John D Burgess's recording. Mike took Aitken's advice and that's the record I have in my hands now. You just can't go wrong with John D!
So while this story is maybe a little convoluted and one where there is much significant, interesting detail that might be mentioned, I think this is enough to confirm, yet again, that the world is small, and that we are all connected, by name or – if we're lucky – a John D Burgess record.
And to think all this vast story was waiting to be known by kindred spirits sitting in a suburban doctor's waiting room.
Thank you Rae Grey!
M.
No Comments yet
Sorry, the comment form is closed at this time.
Dunaber is using WordPress customized and designed by Yoann Le Goff from A Eneb Productions.

Entries and comments feeds. Valid XHTML and CSS.