December 1, 2014 on 4:46 pm by Michael Grey | In
Photographs
,
Stories
|
Comments Off

on HBD Hector MacDonald
A photograph today: In honour of Hector MacDonald and his milestone birthday this week. And with it a nice bit of video here showing a little of Constable MacDonald's other non-piping talents.

The photo here was taken at a band practice of my first band, the Downsview Junior Pipe Band. This session, as they all were then, at the Falstaff Community Centre, deep in the heart of northwest Toronto and what is still a not-that-great part of town.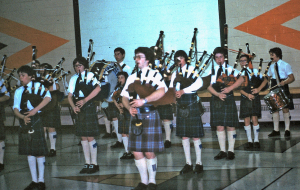 Hector stands behind me and my MacLean tartan bag cover. I think only three in the picture still actively play pipes: Michael Cleland (wearing kilt in RCAF tartan), Hector and me.
I'll be forever grateful to Terry Cleland for donating his time in running this little band. Had he not I'd likely not be a piper today. And, of course, wouldn't be wishing Hector all the best, all these years later.
Happy Birthday, Hector!
M.
No Comments yet
Sorry, the comment form is closed at this time.
Dunaber is using WordPress customized and designed by Yoann Le Goff from A Eneb Productions.

Entries and comments feeds. Valid XHTML and CSS.