May 4, 2014 on 6:07 pm by Michael Grey | In
Delightful Data of the Day
,
Photographs
,
Random Thoughts
|
Comments Off

on Spring
After the longest, coldest, most miserable winter I can ever remember I'm finding myself overcome with child-like awe at the slightest sight or sniff of green. Stop and smell the roses they say? The weakest hint of a sprouting dandelion has me weak at the knees and stopped in my tracks.

Out and about today on my bike and on the trails around where I live I had my usual attempted vigour toned down to a pace more in line with an easily amazed cyclist – a camp, you'll see (or may well know), I can easily fall into.
Just west of Dundas, nearing a huge stretch of land that crossed through what is usually a corn field, I came across a wooded area – a forest, I guess – that sprung from ground covered in little yellow flowers. I stopped and as far as I could see were tiny, delicate yellow flowers – all surrounded by leaves that looked liked the skin of speckled brook trout. The scene was new to me. And here's what I found: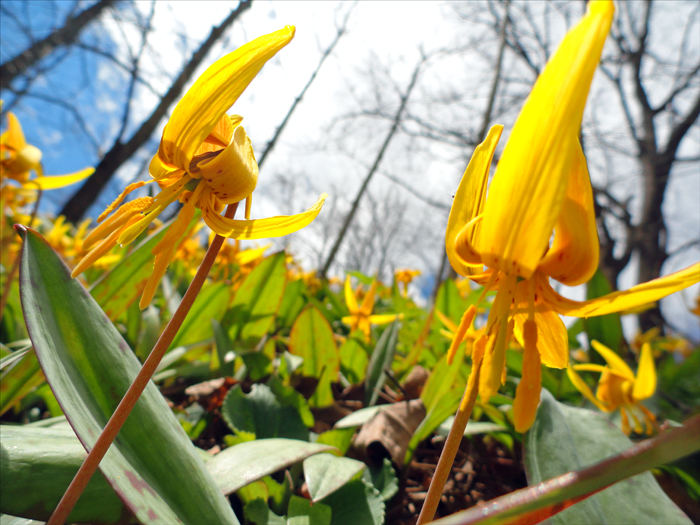 Behold: Erythronium americanum (thank you, google), or the "Trout Lily", to those of us in the easily amazed brigade. Apparently this little spring miracle is both medicinal and edible. You can make a pot of tea from the plant or munch on the leaves while lost in the woods. Not just that, the Trout Lily is both a contraceptive (!) and emetic (chunder-inducing). An odd combo of medicinal qualities to my mind. I'd have to think the "emetic" part alone – a word I just learned today – would double as a contraceptive.
Whatever. Maybe just enjoy the scenery offered up by the short-lived Trout Lily – with no thoughts of grazing.
M.
No Comments yet
Sorry, the comment form is closed at this time.
Dunaber is using WordPress customized and designed by Yoann Le Goff from A Eneb Productions.

Entries and comments feeds. Valid XHTML and CSS.